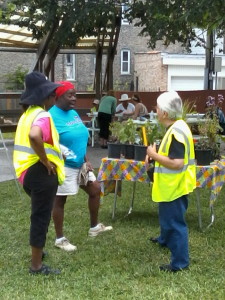 On Friday August 7, 2015, the Resources Committee of CCGA received 2700 more perennials from Elite Growers!  Thanks to a great group of volunteer community gardeners, we were able to sort the plants in record time, and by 2:00 p.m. we had distributed all of them to over eighty community gardens.  What a TEAM!
Special thanks go to Pat Jackson and Robert Hart for (once again) coordinating all the logistics, to Mamie Gray for handling the registration process, to Erik Hernandez for refreshments for the team, and to LaVerne Morris for her gracious handling of the sign-in process. And more thanks to Julie Samuels, who prepared photos, information, and a display of the plants that were distributed.
We also want to thank the New Horizons Community Garden for welcoming CCGA to its site (corner of Van Buren and Central Park—check it out!), and a special thank you to Erma Purnell, one of the principal community gardeners at New Horizons, who has guided and maintained this garden for over twenty-six years.
And finally, a very big THANK YOU to ELITE GROWERS for their tremendous generosity!
See you in September at the CCGA Fall Perennial Distribution—details to follow.
The CCGA Resources Committee