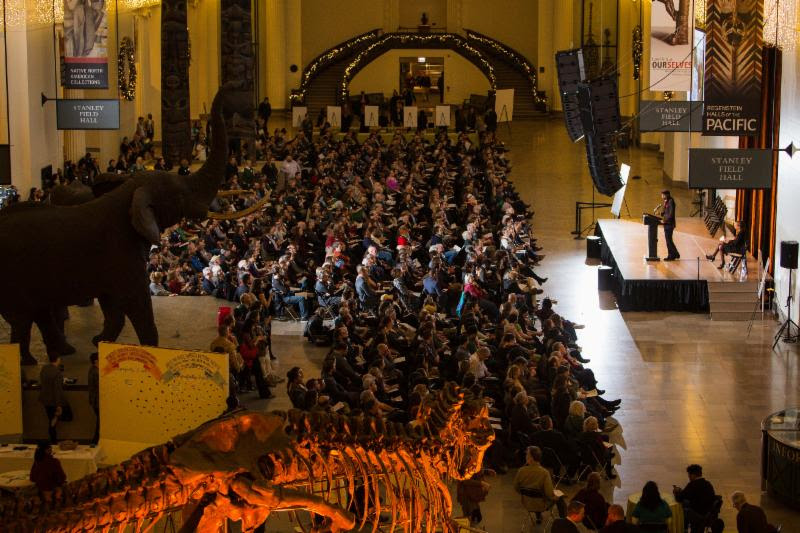 Sunday, December 3, 2017, close to 1,500 like-minded folks from more than 70 partner organizations and sponsors across the Chicago region attended a Climate Forum at the Field Museum right up against the bones of 'Sue', the largest, best-preserved, world-famous fossil and most complete Tyrannosaurus rex ever found. This magnificent fossil dates from 67 million years ago, so it was fitting to sit for a moment and contemplate that half the world's petroleum reserves were laid down at this time in the conditions of what would become the Persian Gulf and Gulf of Mexico. Dark shales were formed during this period which are an important source rock for oil and gas, just the type of fossil fuels that cause dirty air emissions when they are burned.*
CCGA was there, it's community gardeners meeting with fellow activists, organizers, tree people, master gardeners, and a whole lot of folks you would recognize or love to meet if you were there. Mustafa Santiago Ali, of Hip Hop Caucus, the keynote speaker told of his own history and praised the work and inspiration of Hazel Johnson, an Altgeld Gardens environmental activist who fought Chicago housing officials on asbestos, blasted corporate polluters and rallied residents to protest contamination. Five more folks shared stories about the intersection of climate change and their everyday lives and the work they are doing on community-based climate solutions. Many new initiatives that intend to strengthen racial equity, prosperity, and resiliency in dealing with climate change are underway in Chicago. Before we left, we each had an opportunity to sign the Chicago Agreement on Climate and Community, with broad principles on how to take action on climate. This, just a day before Chicago hosted the Global Covenant of Mayors for their North American Climate Summit on Dec 4 and 5th.
It was a good beginning to what must lie ahead for each of us as we address the changes and opportunities facing us in our neighborhoods, in our community gardens, and in organizations like CCGA. To date, nearly 500 people and organizations have signed the agreement.
We encourage you to sign on, offer feedback, and commit to inclusive climate action in 2018. You can access the Chicago Agreement on Climate and Community documents here
*Source: http://www.ucsusa.org/clean-energy/coal-and-other-fossil-fuels/environmental-impacts-of-natural-gas